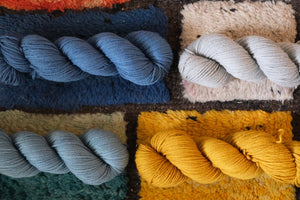 explore
Color Combinations
See custom MO Fibers color combinations for Chroma, Mooncrush, and Moonless + tips for creating your own unique color block story.
Find Your Colors
Below you will find some of my favorite MO Fibers color combinations. Whether you are choosing 4 colors, 3 colors, or 2, there's something for every style.
Want to explore more? Check out Coolers, a web and app based color palette picker. I'll leave a list of all MO Fibers colorways and their HEX colors at the bottom of this page, you can pick and choose! Or use Coolors to find your own color palette from yarn in your stash or your favorite base.
Please note: these are approximations to the colorways. There may be differences between your screen and the yarn.
CHROMA | 4 Colors | Targhee Worsted
Chroma Pastel
Haus Rose, Sage, Straw, Cloud.
For a soft contrast.
Chroma Autumn
Honey, Garnet, Olive, Sand
Perfect fall colors.
Chroma Purple
Eggplant, Lavender Silver, Cloud, Stone
Chroma Bold
Raw Ruby, Citrine, Brick, Sunstone
A saturated collection of bold colors.
Chroma Neutral
Bark, Almond, Cloud, Sand
Back to basics.
Chroma Gemstone
Pink Tourmaline, Rose Quartz, Blue Apatite, Sunstone
Bright and fun.
MOONCRUSH | 3 Colors | Merino Fingering
Mooncrush Original
Sunstone, Evergreen, Haus Rose
Tried and true combination.
Mooncrush Netural
Sand, Almond, Bark
To match any outfit.
Mooncrush Gemstone
Rose Quartz, Pink Tourmaline, Sunstone
Hi Barbie!
Mooncrush Pink
Fog, Haus Rose, Earth
These pink hues are meant to be.
Mooncrush Bold
Brick, Cloud, Lavender Silver
Another tried and true combination.
Mooncrush Earthy
Earth, Honey, Olive
My favorite combination.
MOONLESS + CHROMA | 2 Colors | Merino Fingering
Moonless Original
Coral, Haus Rose
Tried and true combination.
Moonless Marigold Garden
Citrine, Sunstone
Bright and summery.
Moonless Hot Right Now
Brick, Pink Tourmaline
A trendy combo that has my heart.
Moonless Earthy
Fog, Olive
Mossy and soft.
Moonless Netural
Cloud, Almond
My favorite neutrals.
Moonless Sky
Sky, Cloud
Speaks for itself.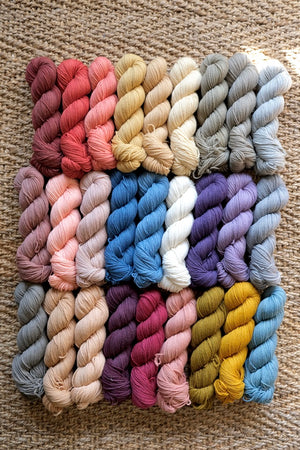 more color exploration
colorways + HEX codes
Find the HEX codes for each MO Fibers colorway below. Mix and match your favorites using the Coolors website or app to find the perfect personal combination.
coolors color play
mo fibers yarn
MO Fibers Signature Colorways
Use these HEX color codes to mix and match your favorites MO Fibers original Signature colorways.
Gemstone Colorways
Gemstone Colorway HEX codes for bright, bold color blocking.
Blues, Purples, Neutrals
More HEX color codes for the cooler and neutral tones.
Cotton Colorways
Colorways only available on Cotton Sport and Cotton Light bases.